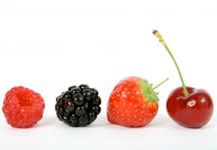 I know this is a blog that expounds the amazing benefits of dietary supplements and I'm a strong believer in augmenting my diet with extra vitamins and minerals, but you can't escape the true goodness of a healthy, balanced diet.
This year, my immunity took a beating because of several food poisoning bouts from my Nepal trip last December. Not only was my stomach more sensitive, but also I caught a cold or cough almost every week if I overstrained myself by sleeping late or working out. Believe me, this was something hard to face as an active person and as someone who almost never got the flu.
What also got me was, I thought I was disciplined in taking all the supplements that could make me stronger — vitamin C, Echinacea, garlic, zinc, cod liver oil, and the odd multi-vitamin once or twice a week. But even they couldn't save me.