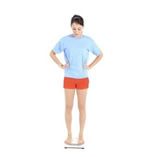 Any product that has to do with weight-loss is always controversial — does it really work, or is it harmful to your body, does your old weight pile on after you stop taking it?
Diet pills have been laced with amphetamines until the FDA banned it in the 1990s. So now most of them contain caffeine and ephedrine to suppress appetite and keep energy levels up.
Such diet pills tend to be quick fixes and have a reputation for masquerading as deep, scientific formulae that have harmful side effects. Worst case scenario: the weight you lost tends to jump back on after you stop.
The reality of weight-loss is there are no real shortcuts and you will need to experience some kind of hunger. But sometimes, no amount of will power seems to conquer those engulfing pangs, and before you know it, you reach for a bag of chips that are 1,000 calories — almost half of what your body needs in one day.
If you need to take the edge off intense hunger, natural appetite suppressants could provide some reprieve. However, you must be aware that these are not cure-alls and good results will only come about with a nutritious, low-glycemic index diet (for example, whole foods, fish, lean meat, leafy vegetables, grapefruit, apples) and regular exercise.
Here are nine types of natural appetite suppressants:
Chromium picolinate
This form of chromium increases the efficiency of insulin, the hormone that is released after you eat that helps cells absorb sugar, and hence balance out blood sugar levels. In this way, your appetite is curbed as your body can process the food you eat more efficiently. There was some controversy in the U.S. that this form of chromium could damage DNA, which could eventually lead to cancer, but a few research studies have debunked this theory.
Brewer's yeast
Not to be confused with baker's yeast, nutritional yeast, or torula yeast, Brewer's yeast is rich in chromium and B vitamins that help break down carbohydrates, fats, and proteins, which provide the body with energy. This supplement is also good for healthy hair and skin.
Avocado extract
High in omega fatty acids, this oily fruit stops hunger pangs in their tracks by reducing cravings for carbohydrates.
5-HTP
5-HTP (5-Hydroxytryptophan) is an amino acid and is primarily marketed as a serotonin balancer. It helps with alleviating mild depression, but it can also curb your appetite for certain foods. Hunger doesn't just happen when your body needs fuel to replenish its energy levels, but it also occurs when your serotonin levels are low. This is when you crave "comfort food" like chocolate, popcorn, and ice cream, which are all high in calories and sugar.
Pomegranate leaf extract
This exotic Asian fruit has been making waves in the health and beauty market in the last few years. One of its uses is that it reduces intestinal fat absorption without affecting blood triglyceride levels. Scientific trials on rats found significant weight-loss results but the same on humans is yet to be further proven.
Hoodia gordonii
Derived from a cactus-like plant native to the arid regions of South Africa, Botswana, Namibia and Angola, hoodia gordonii has been touted as an effective weight-loss supplement. For centuries, African tribesmen consume this bitter-tasting plant to stave off hunger and thirst on long hunting trips. Classified as an endangered species of wild flora, there are many counterfeit hoodia supplements in the market due to its high demand. Recent news reported that as much as 80 per cent of hoodia available are fake.
St John's wort
Many tout this as a gentle anti-depressant, but St John's wort is also used as a non-stimulant type of appetite suppressant. Some people may not regard this supplement as particularly effective as its effects take several weeks to kick in.
Guar gum
Fiber supplement guar gum absorbs water in the stomach and forms a gelatinous mass that creates a feeling of fullness and also slows the emptying of the stomach.
Agar agar
This is a popular fiber supplement that Japanese women swear by. Derived from red sea algae (also called kanten), agar agar is consumed with water to give a sensation of fullness, which keeps hunger at bay. It comes in the form of a tasteless powder that can be mixed with a variety of food and drinks.