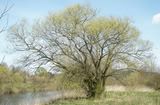 You have a headache or suffer from an injury strain, but you can't take prescriptive pain relievers like aspirin for them. People who have gastric or intestinal bleeding or other upsets or who are taking anti-blood clotting medication that thins the blood like Wafarin are advised against taking aspirin because it makes these conditions worse.
Luckily, there is the white willow tree whose bark that can provide an alternative and effective solution. Also called Salix alba, the white willow tree grows in Europe, North America, northern Asia, and parts of Africa. The bark of the white willow tree is rich in salicin, which is a traditional pain relief remedy for centuries in China, India, and is also used by Native Americans.
Salicin, when absorbed by the body, converts into salicylic acid that lowers levels of inflammatory prostaglandins — hormone-like chemicals that increase pain and inflammation.
White willow bark extract can be used to ease chronic and acute pain so it helps those who have lower back pain, osteoarthritis, rheumatoid arthritis, neuralgia, headaches, toothache and menstrual pain. It is also effective in treating fevers caused by colds and influenza.
Another herb that contains salicin is the multi-purpose meadowsweet. Among its many uses, it can also reduce influenza fevers. Though not as potent as the white willow bark, meadowsweet can exercise a mild anti-inflammatory effect and help ease rheumatic pain in joints and muscles.
Besides pain caused by a chronic condition, herbal supplements can help relieve pain triggered by trauma, such as insect stings, scrapes, burns and cuts. These afflictions can be treated by Echinacea tincture, which is an effective topical anti-inflammatory and antiseptic, and also inhibits the spread of toxins if applied immediately. Though Echinacea itself is not a painkiller, it quickly reduces the amount of pain by dramatically easing the swelling and irritation.
Particularly for burns, Calendula tincture is an excellent remedy for preventing blistering which in turn reduces pain greatly.