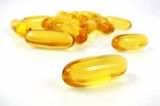 We've got yet another great piece of news about joint health: cod liver oil. For a long time, supplement junkies have known that this stuff is good for brain development, increasing energy levels, lowering depression, and promoting heart health.
But now the focus is on its use for easing arthritic pain. Dietary supplement companies have been promoting this Omega-3 essential fatty acid-rich supplement for the past few years to seniors, but to have some scientific basis to this claim reinforces how valuable it is.
A recent study has confirmed that cod liver oil can reduce arthritic anti-inflammatory drug intake by 30 per cent in rheumatoid arthritis patients.
Anti-inflammatory drugs that are traditionally used to treat arthritis may take away the pain, but with long term use, there are always side effects, like high blood pressure and an increased risk in suffering from a heart attack, to contend with.
These risks have led doctors to prescribe with caution and would only let patients use these drugs for short periods of time. However, the constant pain forces patients to keep taking such pills.
This promising new evidence gives hope to sufferers who can balance out their prescriptive medication with natural pain management.