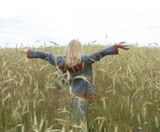 A lot of women know what the bare minimum should be in their supplement drawer: evening primrose oil (to balance those nasty hormonal changes) and calcium (to prevent osteoporosis). Also, the reasons for taking these are also a little hazy for most, so we thought this article would be helpful to explain what supplements are good and why.
While there other goodies out there that can help you deal with female-related diseases and conditions, we often feel confused with too much information, too. The problem is, there are so many products in health stores vying for your attention, how do you decide what you really need?
Here are the most important supplements that women should consider taking to give their health a boost:
Calcium
You should load up on calcium before 35 to form strong bones, because after that, this same built-up calcium will help to slow bone loss. Research has also proved that calcium helps to ease PMS symptoms and lower blood pressure.
Vitamin D3
This helps better absorption of calcium, which is essential for our bones. Breast cancer, diabetes, heart disease and multiple sclerosis are just a few illnesses that this vitamin keeps at bay.
Iron
Though most of us probably get enough iron in our diet, iron is something that anemic and pregnant women should look into. Anemia affects metabolism and energy enzymes, so supplementation would be advised to feel less weak. Pregnant women actually require double the dosage of iron because of the potential for blood loss while giving birth and experience increased blood volume during gestation.
Gamma-linolenic acid (GLA)
GLA is an essential fatty acid that reduces inflammation, but for women, it is useful because it lessens PMS and irritable bowl syndrome-like symptoms that occur during menstruation. You can find GLA in evening primrose oil, borage or black currant seed oil.
Vitex
Found in herbs like chaste tree berry or monk's pepper, Vitex agnus-castus is an ancient remedy for PMS symptoms, irregular periods and infertility. Basically this substance acts as a hormonal balancer but is relatively gentle so you need to take it regularly for several months to see the effects.
Indole-3-carbinol (I3C)
If you consume more of this substance that is found in broccoli, brussels sprouts and cauliflower, you could possibly reverse conditions related to human papillomavirus (HPV) infection. Of course, these vegetables are also great for reducing cancer risk.
Folic acid
This B vitamin is often underrated and overlooked but it is essential in maintaining cell health, especially during pregnancy when women go through a period of high cell division. It is also important for menopausal women to take more folic acid to stave off heart disease and stroke.