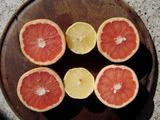 It's become so common that you don't even think about vitamin C. As a supplement junkie, it is a staple I take with my morning juice, among others.
We know a deficiency of this essential vitamin causes scurvy, but that's like a 19th century problem, where the importance of fruit was not common knowledge.
Let's fast forward to the present, why do we need vitamin C?
Off the top of my head, I know vitamin C is a great anti-oxidant, especially when it's combined with vitamin E — together they work to fight off annoying free radicals that will do damage to good cells.
The healing power of vitamin can't be under-estimated, either, as it is fantastic for building immunity against colds and heals bleeding wounds.
A research study by Arizona State University found that vitamin C aids weight loss. Vitamin C is an important component in creating carnitine, which helps turn fat into fuel.
Apparently, those who had low levels of vitamin C in their blood stream burned 25 per cent less fat than their counterparts with adequate amounts during an hour-long treadmill walk.
The Food and Nutrition Board at the Institute of Medicine recommends adults to consume slightly less than 100 mg a day, but supplement producers expound the benefits of higher dosages.
Personally, I take 500mg a day and I think it's a comfortable amount, but I still try to eat at least one serving of fruit and a glass of juice daily.
If you're not into pill popping, load up on foods that are high in vitamin C — grapefruit, kiwi, guava, strawberries and dark green leafy vegetables.