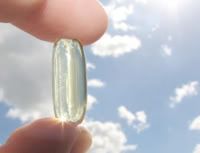 The thing about taking dietary supplements is that you don't see their immediate benefits and it's something you need several months to experience any difference in your health. Omega fatty acid supplements fall into this category, in my opinion. If you want to reap the goodness of these "good fats", you should be in it for the long haul.
I'm a big fan of omega fatty acids because I can see how my skin has improved over the years. As a teenager, acne was a major problem and would return now and again in adulthood. I've taken also used zinc to speed up the healing process and found ingesting aloe vera juice daily to give my skin a radiant glow.
But when I moved to the temperate clime of Japan, I struggled with dry flaky skin that broke out occasionally. I chanced upon an article online recommending fish and flaxseed oil as a way to defend your skin against dryness so that it wouldn't over-produce sebum which would lead to pimples. I increased my dosage of fish oil from 1,000mg daily to 3,000mg and within a couple of weeks, my skin looked noticeably clear.
This perked my curiosity more. If I'm taking that much omega fatty acids, what are their other benefits? If you are not a fan of fish, what are you missing out? Most folks know that omega-fatty acids prevent heart disease and lower bad cholesterol levels, but what if these are not your health concerns — should you consider taking them?
Reduces menstrual cramps. There was a study that found Danish women, who have a diet rich in omega-3 fatty acids, had the mildest symptoms of menstrual pain, hot flashes, and increased sweating. Evening primrose oil, omega-6 fatty acids, which help lessen breast tenderness, depression, irritability and bloatedness from water retention.
Improves ADHD in kids. Children with attention deficit/hyperactivity disorder (ADHD) tend to have low levels of omega-3 fatty acids which means they have the ability to focus less. Temper tantrums and disturbed sleep can be lessened if omega-3 fatty acid levels are raised. It has been found that with daily supplementation, ADHD children can improve their concentration on tasks like reading, spelling, and become less aggressive.
Lowers risk of colon cancer. Eskimos may have a high-fat diet but they consume tons of omega-3 fatty acids from fish and they have a very low rate of colorectal cancer. Why should this be such a concern? Colorectal cancer is one of the most commonly diagnosed cancers in America. Furthermore, medical research has proven that low levels of omega-3 fatty acids in the body are a marker for an increased risk of colon cancer.
Heals psoriasis and eczema. I mentioned that omega-3 fatty acids are great for easing dry skin and doctors recommend flaxseed oil particularly.
Slows down bone loss. Omega-3 fatty acids help increase calcium absorption in your bones which is something all women should know about.
Fights fat with fat. The body's insulin levels are improved when omega-3 fatty acids stimulate the production of leptin. What does that all mean? Basically leptin is a hormone that helps to stabilize food intake and metabolism. If your insulin levels were more stable, you wouldn't feel the need to eat so often.