Ever since we discovered the secret to longevity could be donkey's milk, the hunt has been on for healthier alternatives to cow's milk. The latest buzzwords in the food industry are yak cheese.
A new research study published in the Journal of Agricultural and Food Chemistry found that yak's milk contains more polyunsaturated fatty acids (PUFAs) and conjugated linoleic acid (CLA) than Canadian cheddar cheese manufactured from cow's milk.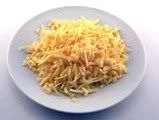 The higher ratio of omega-3 to omega-6 fatty acids found in yak's cheese means that it could be possibly be categorized as a healthy food in human diets, according to the researchers from the University of Guelph (Canada), the Asia Network for Sustainable Agriculture and Bioresources in Kathmandu, and Kantipur City College in Kathmandu.
Previous separate studies have proven that omega-3 to omega-6 ratio in foods has a direct link to improved health.
Native to the Himalayas and Tibet, Yak's cheese is still considered a gourmet specialty that is hard to find, though it is available in America and Europe.
The researchers suggest that yaks, which graze on pristine pastures, have a healthier fatty acid composition, compared to grain-fed cows in the West.
The ratio of the omega fatty acids found in yak's cheese is four times more than that in Canadian cheddar cheese.
The benefits of consuming such fatty acids include bone health, weight maintenance and cancer prevention.