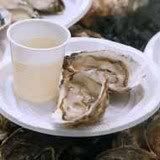 You've tried every fancy acne product your friends recommended and even changed your diet to be a more healthful one, but you're plagued with a stubborn outbreak of acne that just won't go away. Perhaps you're consuming something you shouldn't or missing something from your diet, you may wonder.
According to some researchers, acne may be caused by a lack in zinc. Other signs of this mineral defiency are dry hair, white spots on fingernails, slow healing of wounds and a decreased sense of taste and smell. Zinc plays an essential role in our immunity system.
Where can you find zinc? Oysters, crab, chicken meat, yoghurt, milk, cashews and almonds are several foods that are rich in zinc.